Are you looking for somewhere different for your event?
Then the Abbey Buildings are the place for you. The romantic setting, steeped in history but with modern facilities, is ideal for a wide variety of events. You can book the Buildings as a whole or individual rooms, depending on your requirements.
We had a very happy evening in the beautiful setting of Abbey Building celebrating our daughter's birthday. Her friends are still talking about it – such a fun time! We were so grateful to Brandi and Tim for their help and support in organising the event. We look forward to booking it again.

The M Family
Are you looking for a wedding venue?
Hold the ceremony on the stage of the Elizabethan theatre with the guests in the auditorium, move to the Long Gallery for the reception and, with your guests, enjoy our beautiful riverside gardens. The Buildings provide a unique backdrop for your wedding photos.
Beautiful buildings, which we're very lucky to have. Everyone does an amazing job at keeping it going and we felt so lucky to be able to have our wedding there. 😀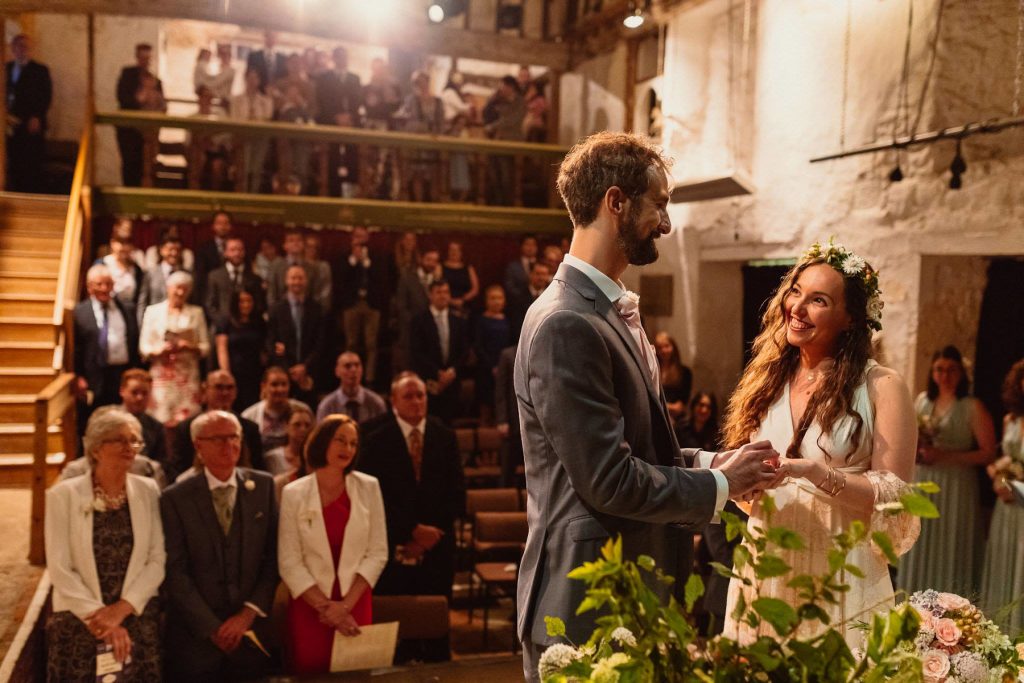 Are you looking for a performance venue?
…whether for drama, music of all kinds, comedy, talks. Then our miniature Elizabethan theatre, the Unicorn, is just the place. This 92-seat theatre has excellent natural acoustics and is fully equipped with modern stage lighting and surround-sound acoustics. It has also been used as a very popular pop-up cinema. There are facilities for a bar in the Checker to add to the true theatre experience.
Are you looking for a film or photo shoot location?
The romantic and historic Abbey Buildings provide ideal settings for film shoots, including feature films, TV dramas, and TV commercials, as well as fashion and other photo shoots.
In 2020, the Abbey Buildings featured in Channel 5's TV series "The Thames: Britain's Great River With Tony Robinson". The first part of Episode 2 is devoted to Abingdon, with the Abbey Buildings segment starting at about 7:05.
Are you looking for somewhere to hold a class or talk?
Individual rooms can be hired for classes or talks, either on a regular basis or as one-off events. Art classes, wine tasting, flower arranging, yoga, music practice – whatever your requirements we will make every effort to accommodate them.
What is the venue like?
The flexibility of the Buildings makes them suitable for a wide variety of events. As well as weddings and private parties, they have hosted art exhibitions, flower festivals, the annual Abingdon Craft Fair, beer festivals, jazz festivals and many other events.
We had a lovely day at The Abbey Buildings and our guests were very impressed by how beautiful they are.
You can hire the whole site or individual rooms, depending on your requirements.
The 92-seat Unicorn Theatre is suitable for wedding ceremonies, drama productions, concerts, talks and lectures. It has also been used as a pop-up cinema.
The Checkers are two large rooms which can be used as 'foyers' for productions in the Unicorn Theatre, drinks receptions before and after weddings and other events, and small group meetings.
The Long Gallery accommodates up to 100 guests for dining and is an ideal location for wedding receptions and parties. It is also suitable for ceremony-only weddings. Other uses have included chamber concerts and exhibitions.
The Lower Hall is below the Long Gallery and approximately the same size. It has a small stage and the floor is suitable for dancing, so it is ideal for post-wedding parties. It is successfully used for the annual Abingdon Beer Festival where bands of up to 7 pieces have performed on the stage.
Accessibility: Unfortunately, because of their medieval origins, the Abbey Buildings are not fully accessible. We have a removable ramp which allows level access into the Lower Hall, but the Long Gallery and the Checkers are on the first floor which is accessed by a straight external staircase. Access to the Unicorn Theatre auditorium is through a side door and down a few steps. However, there are two wheelchair spaces which can be accessed on the level.
Toilets: The newly refurbished WCs are located on the ground floor in the Lower Hall, but both the Ladies and Gents are up a few steps, and we do not have a wheelchair accessible WC.
Catering: We do not offer catering services, but you can hire a caterer to provide food, preparation equipment, cutlery, crockery and glassware. There is a sink area and a large refrigerator at the end of the Long Gallery. We can provide wooden chairs and rectangular tables, which can be arranged in various formats. We can also provide a limited pay bar for your event.
Our experience at the abbey was absolutely fantastic. Tim and his wife were such a lovely couple and so nice to us throughout. They helped to make it special for us and you can really see how much they both love the buildings. Although we have unfortunately not been able to return this is not because we havent wanted to! We have a beautiful 1 year old daughter and unfortunately we aren't able to attend your evening events. We would love to see some day time, family events in the future! We also have one of your lovely prints framed in our house to remind us of our special day. We truelly cannot thank you enough…
Please get in touch
Interested? For further information and booking get in touch with our bookings secretary, who will be happy to answer your questions and arrange a personal tour of the Abbey Buildings so that you can see this beautiful venue for yourself.
Email: bookings@abingdonabbeybuildings.co.uk
Phone: 07513 619034
Post: The Friends of Abingdon Abbey Buildings Trust, 18 Thames Street, Abingdon-on-Thames, OX14 3HZ