The Abbey Buildings provide a lovely romantic backdrop to any wedding and we are delighted that you are thinking about hiring them for your special day. Here is some information to help you decide whether this venue is right for you both. We recommend that you also come to visit us to experience our wonderful buildings first hand and to find out more.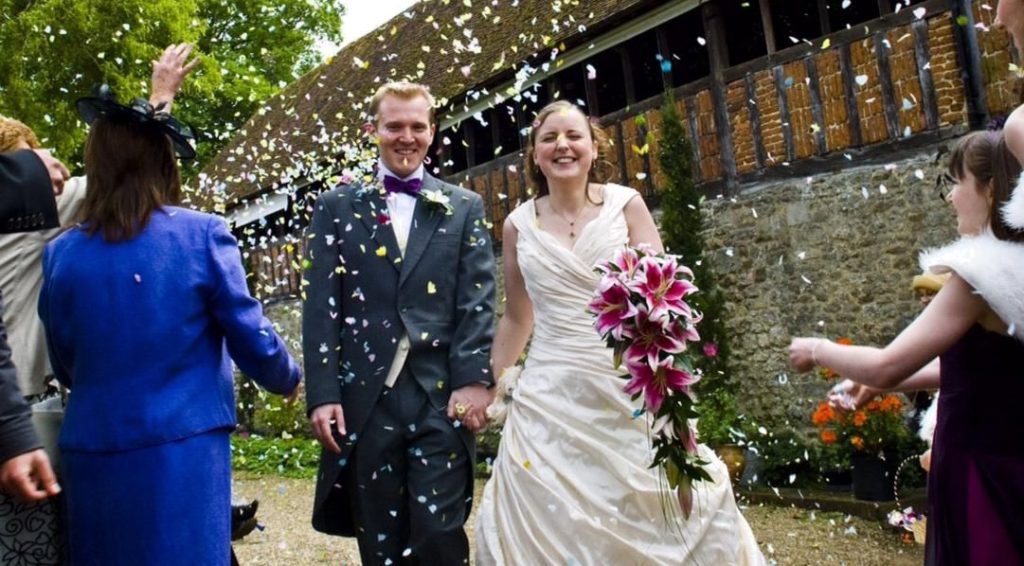 What is the venue like?
The beautiful medieval buildings are more than 600 years old, set in their own private walled gardens and with a mill stream running alongside.
They are a scheduled ancient monument, once part of Abingdon's famous Abbey, and are full of history and unique in character. They are rustic in style and partially open to the elements (the north side of the Long Gallery is not glazed), but they offer an ideal location for a wedding between the months of May and September.
About twenty weddings are held here each year. The historic buildings are so popular with couples that weddings typically book at least eighteen months in advance.
We loved the venue as it is one of a kind and getting married in a place with vast history makes us feel special. We would definitely recommend Abingdon Abbey as a wedding venue to our friends and family.
A bespoke wedding opportunity
We have a licence to host civil ceremonies, so you can choose to use our venue for your ceremony, reception, or both.
As well as providing a private and unique backcloth for your special day, the Abbey Buildings offer you scope to put your own stamp on your wedding experience. You will be able to dress the venue using your own style and creativity, with bunting, fairy lights, flowers and other light-weight decorations, which can be hung or tied to the fabric of this beautiful ancient monument.
Wedding banquets are set up in the magnificent Long Gallery, with its impressive vaulted ceiling, beams, posts and stone fireplaces. We provide wooden chairs and rectangular tables, which can be arranged in various banqueting formats, or you can hire in round tables if you prefer. There is space in the Long Gallery to accommodate up to 100 guests for dining.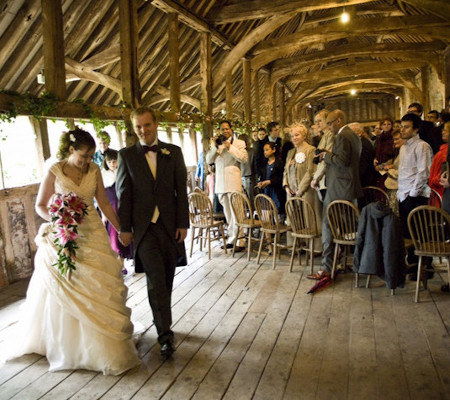 Where are the Abbey Buildings?
They are Abingdon's best kept secret, located in a private cul-de-sac but very close to the Market Place. There are churches, hotels and guest houses within easy walking distance, together with plenty of public car parks nearby and an excellent bus service from Oxford.
We are five minutes' easy walk from the disembarkation point for Salter's Steamers boat trips from Oxford's Folly Bridge, so perfect for a wedding ceremony taking place in Oxford, followed by a relaxed trip down the river with your family and friends prior to your reception.
Can we have our civil ceremony here?
Yes, we have a licence to host civil ceremonies and you can choose between a number of locations within our buildings, including the Unicorn Theatre.
Between May and September, a weekend civil ceremony can be booked as a package with a reception. In our off peak season, which runs from October to April, or mid-week in summer, we offer a civil ceremony without an accompanying reception. Although we do not normally offer "civil ceremony only" bookings at the weekend during our wedding season, last minute bookings will always be considered, subject to availability.
Our civil ceremony hire charges are available on request. They do not include the cost of the Registrar. It is your responsibility to book and pay for the Registrar.
We chose the venue due to the building itself, the surroundings, the small, local business vibe that we got from the people working and volunteering there, and the fact that we had the freedom to decorate as we wished and get the suppliers that we wanted (a lot of other venues have much more restrictions on this and a lot of extra charges – which put us off them). Please don't change!
Where can we have our reception?
Hiring the Abbey Buildings for your wedding reception gives you exclusive use of the Long Gallery, Lower Hall and the two Checker Rooms, plus the north and south gardens. The Unicorn Theatre is not included within the hire for receptions, but it is available for ceremonies.
The hire period includes the day before your wedding from 9 am for setting up, your wedding day itself until midnight, and the following morning until 1 pm for clearing up.
Hire charges are available upon request.
If you do not already have providers in mind, we are able to suggest florists, photographers and other providers with experience at the Abbey Buildings.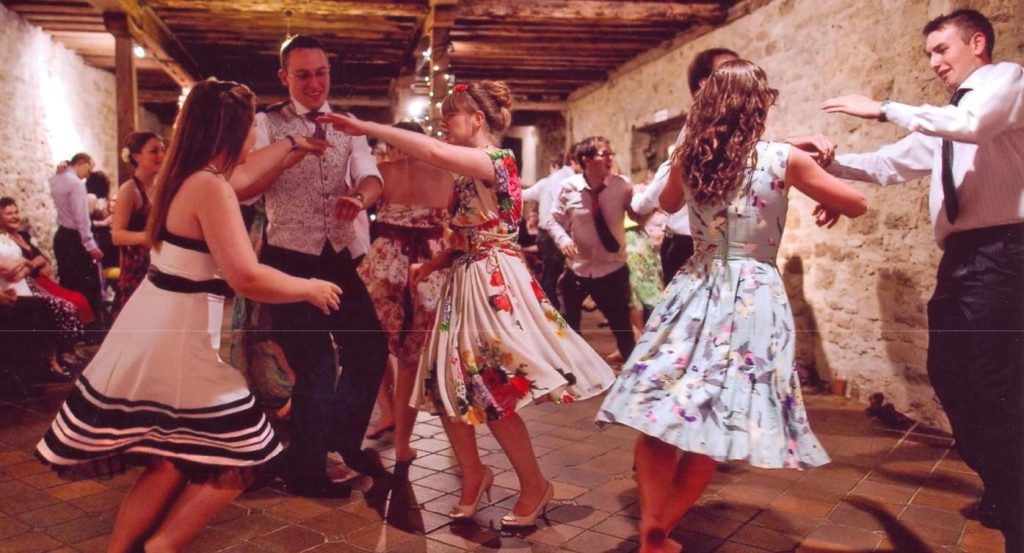 Menu options for the wedding breakfast
Unlike other venues, we do not offer catering ourselves, so you are completely free to choose your own menu according to your preferred taste and budget.
You will need to hire a caterer to provide the food, preparation equipment, cutlery, crockery and glassware. We have a sink area at the end of the Long Gallery and a large fridge.
Your chosen caterers should come and look at the buildings well in advance, so they are aware of the layout and understand where cooking can take place. Alternatively, we can give you the names of caterers who are familiar with the buildings.
We got married in 2018, and held our reception at the Abbey. We could not have been happier! We got recommendations from them about caterers who were used to working with the buildings unusual set-up, and the Abbey had chairs and tables we could borrow, which helped us keep our costs down, as we only had to worry about linen and 2 or 3 tables. They had recommendations for sound/lighting, too – invaluable for our planning purposes. The venue itself is stunning for a rustic, romantic wedding reception, all our guests loved it!

M&V L-P
Is the Abbey Buildings a licensed venue?
Yes, we are licensed for serving alcohol up to 11 pm. Most couples prefer to hire in a bar service to serve their guests either as a free bar, a pay bar or a combination of both. Alternatively you may bring in your own drink and we do not apply a corkage charge.
Entertainment and timings
The Lower Hall with its tiled floor is available for entertainment. Bands, discos and ceilidhs work well in here.
Entertainment and music may continue until 11.00 pm, although we ask you to show consideration towards our neighbours during the later part of the evening. Guests must vacate by 11:30pm and everyone must be off site by midnight.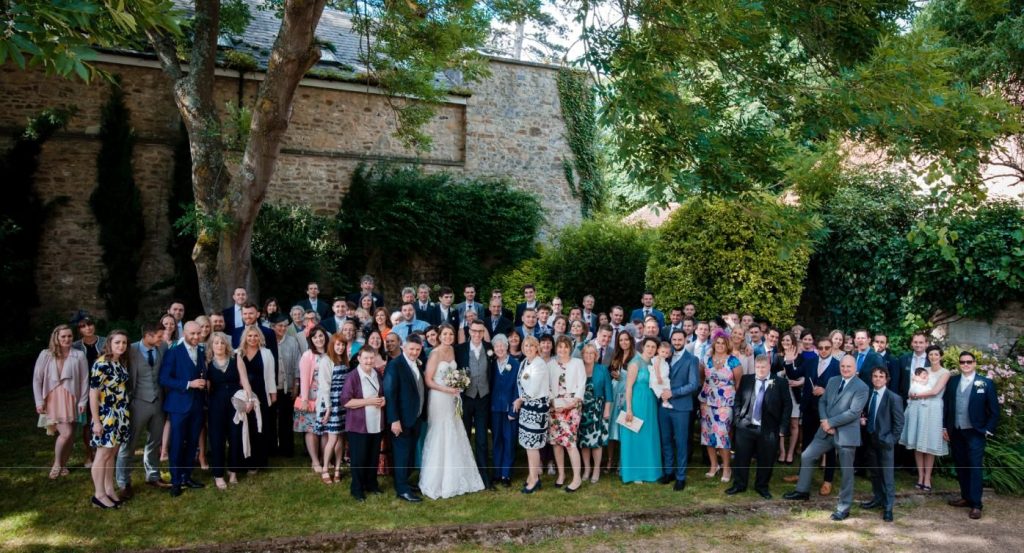 Fire Safety and venue capacity
The local Fire Service has deemed we are licensed for a maximum of 100 people across the Long Gallery, Checkers and Lower Hall at any one time, so whilst individual rooms are licensed for specified numbers as set out in our Terms and Conditions, there must be no more than this number across the whole of these areas at any one time.
Safety for guests
We need to point out that the gardens include an open river bank so vigilance is needed vis-à-vis the supervision of children. The buildings are very old and floors and staircases are uneven in places, so your guests need to take extra care.
Such a beautiful venue. Really helpful to be able to set up the night before our event as well. Disabled access is an issue but I understand that this is under review pending further funding.
Is the venue accessible?
Unfortunately, due to their medieval origins, the Abbey Buildings are not fully accessible. We have a removable ramp which allows level access into the Lower Hall, but the Long Gallery, usually used for the wedding banquet, is on the first floor accessed by a straight external staircase. The newly refurbished WCs are located on the ground floor in the Lower Hall, but both the Ladies and Gents are up a few steps and we do not have a wheelchair accessible WC.
Is parking available?
Parking at the venue is very limited, but there are plenty of public car parks nearby.
Clearing and cleaning up
You will need to make arrangements to clear and clean up by 1 pm on the day after your wedding. We can provide you with contact details for a cleaner to help with this if you are interested.
Find out more
As a prospective wedding couple, you are invited to join our Abbey Weddings group on Facebook where you can see pictures of weddings held in the Abbey Buildings as well as ask questions of those who have been previously married here.
Please get in touch…
If you have any further questions about your wedding preparations and plans, or would like to arrange a visit, please contact the Curator of the Abbey Buildings. He will be happy to discuss with you the availability of the buildings, and any requests or requirements for your special day.
Email: bookings@abingdonabbeybuildings.co.uk
Phone: 07513 619034
Post: The Friends of Abingdon Abbey Buildings Trust, 18 Thames Street, Abingdon-on-Thames, OX14 3HZ
…and take your first step towards
A romantic and distinctive setting for your ceremony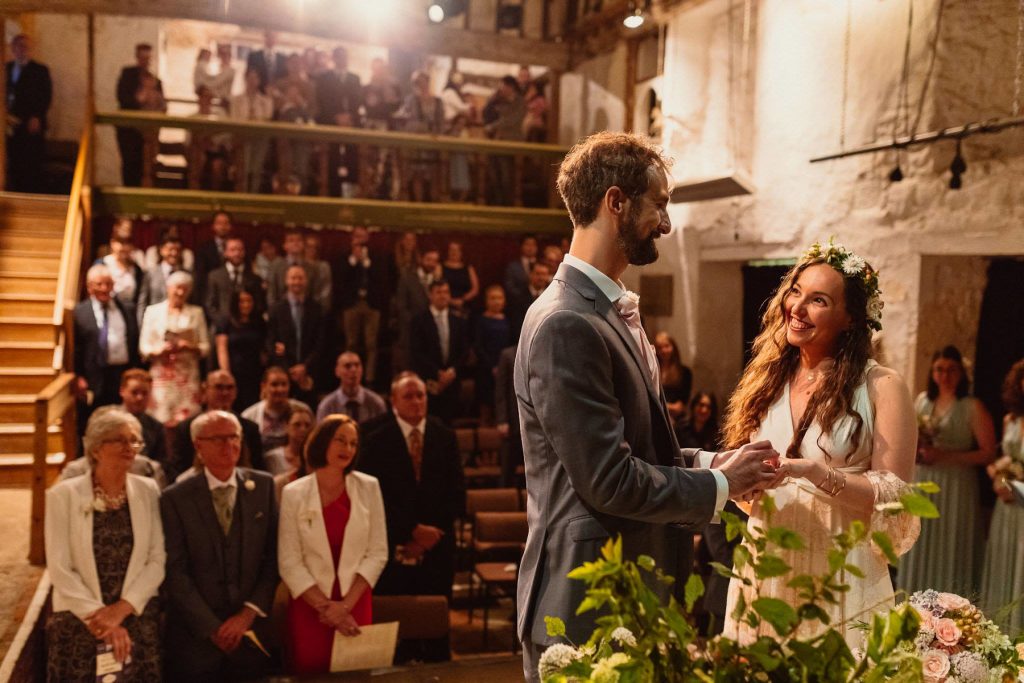 The chance to free your imagination with your preparations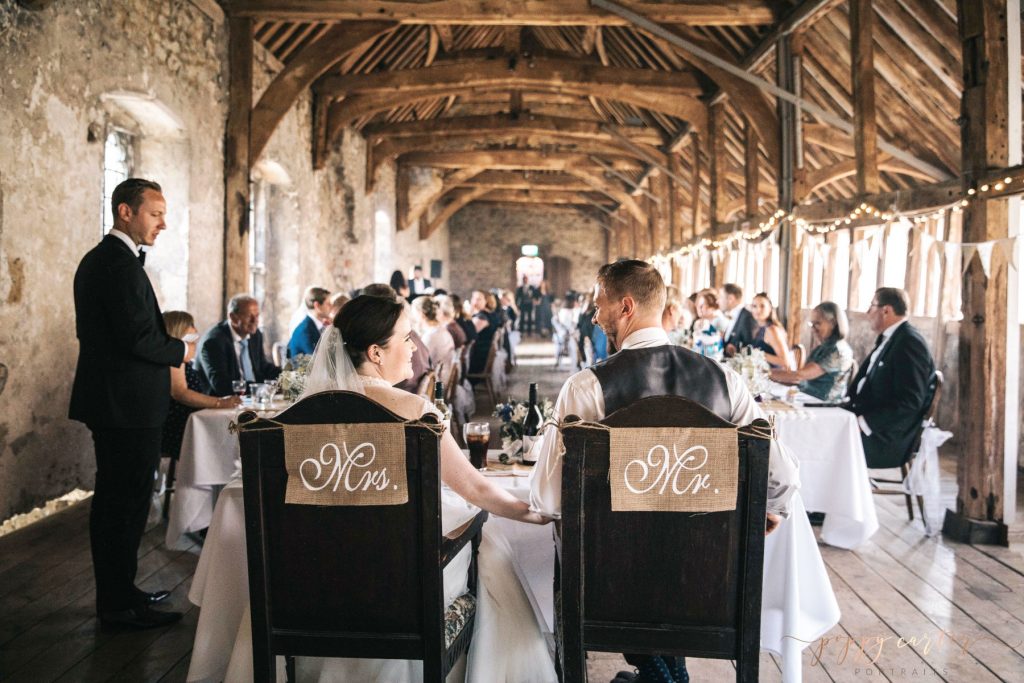 A magical venue for the after party and memorable backdrops for your photographs!