Which Side Are You On? by Oxford Sea Green Singers
24 November
@
19:30
–
22:00
The hidden history of protest and power in Oxfordshire will be told in stories, songs and images by the SeaGreen Singers in the Unicorn Theatre on Friday 24th November at 7.30pm.
Seagreen Singers are Oxford's political choir. Songs and images of famous and less well-known Oxfordshire protests, from the Cutteslowe wall saga to the Campsfield campaign, from the Otmoor riots to Oxford University's links to slavery.
We sing songs to change the world. The group was formed after a class arranged by the Oxford Workers' Education Association (WEA), and it's been going for about 10 years.
Interval refreshments. Collection in aid of charity.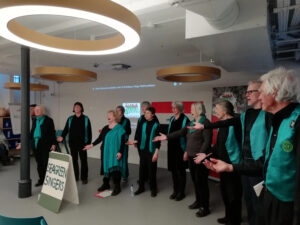 "When we dream alone, it is nothing more than a dream; but when we dream together, it can become reality."

Cora Weiss, Amercian peace activist.
Contact Sally Reynolds
Sea Green Singers
07786 055195
seagreensingers@outlook.com
Errors or Omissions Excepted